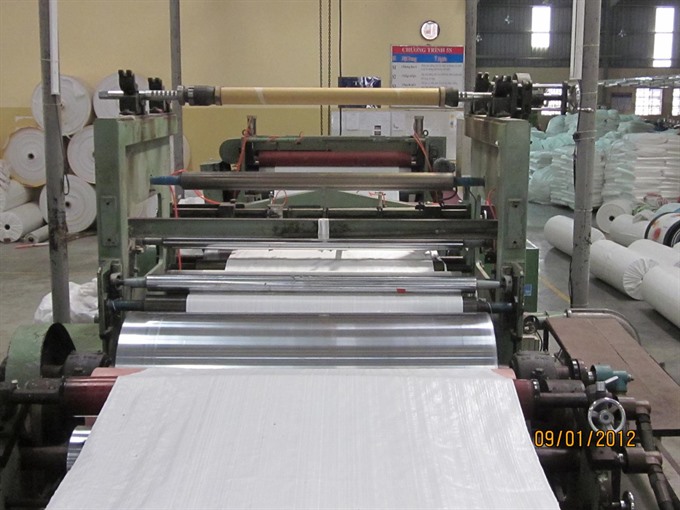 The products under investigation included bags and packing bags consisting of woven polypropylene strip and/or polyethylene strip, resin or similar materials imported from Việt Nam. — Photo vietnamppbags.com
Viet Nam News
HÀ NỘI — The Department of Trade Defence under the Ministry of Industry and Trade has received the US Department of Commerce (DOC)'s request for an antidumping (AD) and countervailing duty (CVD) investigation on laminated woven sacks imported from Việt Nam.
The products under investigation included bags and packing bags consisting of woven polypropylene strips and/or polyethylene strips, resin or similar materials imported from Việt Nam.
Laminated woven sacks (LWS) subject to the scope are typically used for retail packaging of goods such as pet food and bird seed. Laminated woven sacks produced in Việt Nam are subject to the scope regardless of the country of origin of the fabric used to make the sack.
The petitioners were the Laminated Woven Sacks Fair Trade Coalition and its individual members Polytex Fibers Corporation and ProAmpac LLC.
They have alleged that the LWS products imported from Việt Nam are sold in the US at less than "normal value" due to the Government's subsidy which has caused/threatened substantial damage to the US industry.
The petitioners allege dumping margins of 109.95 per cent to 294.57 per cent.
Under US law, the DOC will have 20 days to review the complaint and is expected to issue a decision on whether to investigate by March 27.
With the policy 'America First,' Donald Trump's government is reviewing its trade policy. On March 8, President Trump signed a proclamation to impose a 25-per-cent tax on steel and a 10-per-cent duty on aluminium imports. Việt Nam is one of the countries affected by this decision. — VNS
Nguồn: vietnamnews.vn