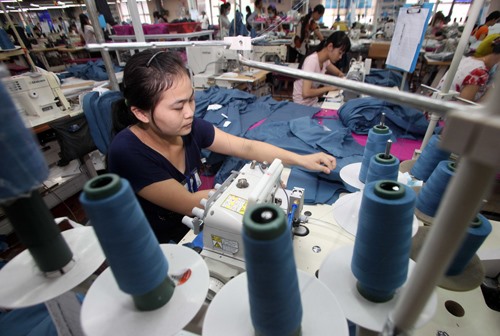 The State earned VNĐ49.2 billion (US$2.16 million) through the initial public offering of the Việt Nam Textile Research Institute (VTRI) on March 12. — Photo baotintuc.vn
Viet Nam News
HÀ NỘI — The State earned VNĐ49.2 billion (US$2.16 million) through the initial public offering of the Việt Nam Textile Research Institute (VTRI) on Monday at an average auction price of VNĐ21,749 per share.
At the auction, 20 eligible investors participated in the IPO to buy more than 14 million shares. The highest bid volume was for the entire lot, while the lowest volume was 1,000 shares. The lowest auction price was equal to the offered price, and the highest was up to VNĐ30,000 per share.
As a result, there were eight winners, including two organisations and six individuals. The average auction price was VNĐ21,749 per share, 73 per cent higher than the offered price, with the total value of the shares sold being VNĐ49.2 billion.
The payment to buy the shares has to be made between March 13 and March 22. The refund period is from March 14 to March 19.
Besides 2,263,000 shares (equivalent to 45.26 per cent of the charter capital) sold during the IPO on March 12, the VTRI will offer 2,263,000 shares to strategic investors, while the remaining will be sold to employees. The State will not hold shares in the VTRI.
According to the approved plan, after the equitisation, the VTRI will be named the Việt Nam Textile Research Institute JSC, with a charter capital of VNĐ50 billion. Its head office will be located at 478 Minh Khai Street, Hà Nội, with a branch in HCM City.
As for its business result, the VTRI posted a revenue of VNĐ57 billion last year, down 25 per cent compared with the average revenue of the previous three years. Its profit was VNĐ761 million, down by half of that of 2016. The total assets of the institute at the end of 2017 was worth VNĐ41 billion.
In terms of land, the VTRI is managing and using plots of land at 478 Minh Khai Street, Hà Nội, with an area of nearly 2,851sq.m; at 454/24 Minh Khai Street with an area of 5,311sq.m; and at 354/128A Trần Hưng Đạo Street, District 1, HCM City, with an area of nearly 2,220sq.m. — VNS
Nguồn: vietnamnews.vn