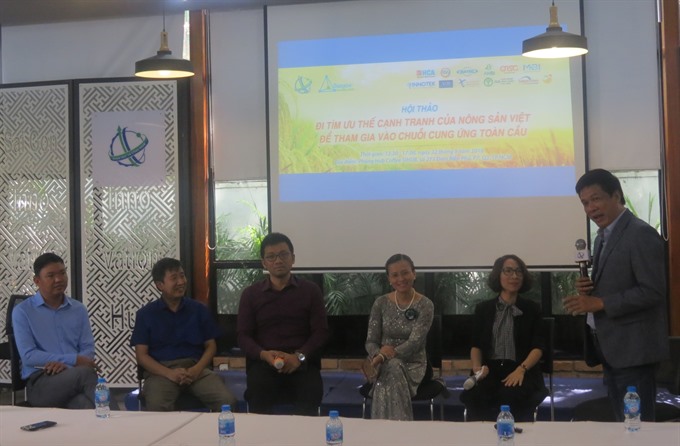 A panel of experts speak about the need for brand building and a focus on quality, not quantity, for agricultural businesses. — VNS Photo Việt Dũng
Viet Nam News
HCM CITY — Brand building and a focus on quality and innovation are key for a successful agriculture business, experts said during a panel on agricultural businesses' competitiveness.
Huỳnh Kim Tước, CEO of Sài Gòn Innovation Hub, said that Việt Nam was importing many vegetables from China, Thailand and other countries, even though many areas in Việt Nam such as Lâm Đồng Province and Mekong Delta are renowned for their quality produce.
Phạm Minh Quang, deputy director of the Mekong Business Initiative, said that Vietnamese farmers and businesses "still focus too much on quantity rather than quality, even though consumer demand for high quality food is on the rise".
Other countries, such as Cambodia, harvest and produce less rice than Việt Nam, but their rice is more well known.
To enter more demanding and more lucrative markets, he said that production should focus on quality and international standards, as well as more advanced technologies.
He said that the Government and businesses should work together to improve brand building and promotion, because Vietnamese produce is not as well known as other countries' produce in foreign markets.
Vũ Kim Hạnh, director of the Business Studies and Assistance Centre, said that geographical indicators could help provide more information about produce.
Nguyễn Hồng Đăng Khoa, director of Trí Nguyễn High Tech Agriculture Co Ltd, noted that brand building should inform customers about how the brand and products are made, as well as their unique selling points.
Engaging stories about how or why the company is formed, or farm tours to provide customers with a better picture of the production process, can also be useful.
Regarding start-ups in the agricultural sector, Tước said that successful start-ups should be trend-setters and offer unique ideas based on real-life experiences, as well as identify problems that need solving.
Đinh Hoàng Hiệp, general director of V-CFO Partners, a financial management consulting firm, said that start-ups need high growth and clear market potential to attract investors, and should seek consultancy or feedback from others.
The discussion panel was a part of an exhibition event for start-ups in HCM City on September 22, where over 100 new businesses promoted agricultural produce, food, technologies and other goods. — VNS
Nguồn: vietnamnews.vn